It had been a violent, wild night on the Surrey/Hampshire border and I had sustained minor damage to some fence panels which shouldn't take too long to fix. A couple of my neighbours hadn't fared so well with large trees felled across their property causing some roof slate damage and wrecked fences and outbuildings. One large tree blocked the main road out of our estate but there was an alternative route so it would wait. All this did not preclude a walk for Welsh Terriers and Dilys was reminding me of this fact early doors so off we ventured and had a chance to get a close up view of the fallen lumber in the area.
I had arranged to meet up with Will and his family in Guildford for the trip north at 11.00. Juley, his wife was taking their two little ones to Jam Jams, a large play and party place in Coventry near to Chris's place at Baginton. Things were going alright until we came to a grinding halt on the M40. A tree had blocked the road at Oxford and the motorway was unceremoniously closed whilst safety checks were carried out. There we sat for nearly one and a half hours and we were beginning to think in terms of turn round and go home and Will and I were discussing the absolute limit of time we felt we could go to in order to salvage the day. Just as we were coming to our conclusion, the traffic started to move and cleared rapidly. We made it to The Oak at 14.20 and there was no time for niceties. Chris and little Jack were in his car engine running for the onward trip to St Andrews. Juley was left with our car to take the kids on to their destination.
We reached St Andrews just after kick off by which time we had missed Blues' best spell of the game by all accounts. In summary this was an abjectly poor performance from Birmingham City. Lee Clark felt it was the poorest all season although I think that is arguable but it was dire it has to be said. Blues were outplayed, outmanoeuvred, out-thought, outpaced and ultimately well beaten by an average Huddersfield team that didn't have to be anything else to take all three points from a disappointingly lacklustre Blues team who have not won in the league at home for eleven games. I am not going to get into the blame game like one individual who launched a disgraceful personal attack on Lee Clark over the airwaves after the game or bang on about the owners as we all know what the situation is there and how much we would all like to see a change but things have to play out as they will and no amount of gnashing of teeth and wobbling of jowl is going to make any difference so let's leave it out. In the meantime, on the pitch, the current team is struggling to stay competitive at this level because the players are not good enough. There was a peaceful protest on 15 minutes with the crowd holding up placards (see photo…)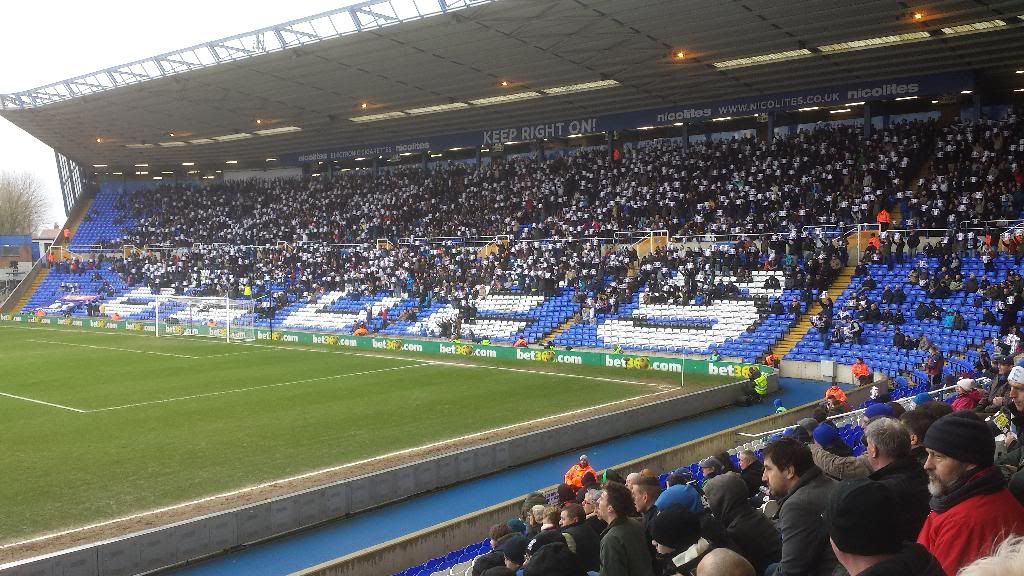 Huddersfield, a side that we had beaten comfortably on their patch, thoroughly deserved their victory, scoring two cracking goals in the process. The first after ten minutes came after a gem of a pass from Danny Ward, flicked over our back line to Oliver Norwood who controlled the ball well and fired a half volley across Randolph into the far corner of the net in one flowing movement from 15 yards; a beautiful goal which saw any fragile confidence that the Blues players may have had drain out of them. From then on Huddersfield played with plenty of belief; they closed down the jittery Blues players whenever they did threaten and quarantined the home side to play in front of them. Blues' moments were sporadic but they did have them. The closest Blues came to scoring was a peach of a cross from Chris Burke that Tom Adeyemi headed back across to the far corner only to see it shave the post; that was very close it has to be admitted. Shots from Emyr Huws and Chris Burke were on target but easily gathered by Alex Smithies who was correctly booked for deliberately slowing play at restarts. Another good cross from Burke eluded Novak with the forward very well placed as one of Blues' really good chances went begging. Will said, "The cross come in and the keeper misses it; it come to Novak and ………Novak misses it!" It just about summed things up too. Huddersfield continued to threaten and quite honestly looked more likely to add to their tally though it has to be said Randolph was not exactly flying back and forth across his goal saving shots.
It was time to grab some food having not had the chance so far and at half time we inquired of the new young chef in the Kop catering area nearest the Gil Merrick stand what he had this week; Chicken Masala Curry with rice and Nan bread with trimmings! He also had some thick pea and ham soup for those requiring a hot snack. The curry it was and it was to die for and on a freezing cold day very welcome indeed. Washed down with a pint, I was feeling a little better.
Olly Lee came on for the ineffective Reece Brown at the start of the second half. The youngster had failed to get into the game in the first period and Will remarked, "Correct man off, wrong man on!" It made very little difference as Blues continued to fail to string more than a couple of passes together, to make poor decisions with the ball, resort more often than not to passing it square across the field and then back to Randolph for the customary hoof down field which usually resulted in Huddersfield regaining the ball. Will Packwood was guilty of not taking the time he had to place a pass rather than play it long first time and I have a message for Olly Lee; stop playing 60 yard diagonal passes out to the flanks. It is a low percentage pass; players back in the day like Johnnie Haynes, Glen Hoddle and David Beckham could do this all the time but they could land it on a sixpence; sadly Olly, you can't; so pick a shorter more likely play instead. Nikola Zigic returned to the fold for Tom Adeyemi and latterly Peter Lovenkrands for Novak joined Macheda in a three up attempt to salvage a game that was long since lost from the hour mark, when Clayton, the Terriers' best player on the day, picked up the ball 25 yards out and unleashed a vicious, waspish drive that swerved and dipped past the helpless Randolph for 2-0. The shot went past Randolph's right hand and moved through the air so that it made Randolph look like the gangly kid at school doing a star jump.
On a bitterly cold blustery day, Huddersfield continued to dominate the game and any threatened last hurrah failed to materialise. Things might have been different had Blues scored when at 1-0 Macheda, I think it was, produced a comical air shot four yards out when a cross from the right fell invitingly at his feet. Any connection would surely have restored parity. This incident summed up the afternoon. Frankly the game petered out into a dull non-event and Blues just couldn't seem to find the drive, motivation and energy to get back into it. In the five minutes added on at the end most of it was spent in our half. I had to smile when the fourth official held up the board, the Tilton ironically booed! They undoubtedly couldn't bear the thought of prolonging the agony and watching any more than necessary of what was total dross. It did allow for one more foray into enemy territory however and a hopeful cross from deep by Caddis to Zigic was headed back across by the big Serb to Olly Lee who controlled well and buried the ball into the roof of the net from six yards. Consolation it was not; too little too late it most certainly was.
The Good: The food at half time; the standard produced by that new young chef is outstanding. Please Birmingham City, encourage this lad and let's have more of this sort of thing. It adds so much to the match day experience even when the team are rubbish!
The Bad: The fact that the traffic jam cleared when it did and thus allowed us to make it to this disaster!
The Ugly: The football we played. It was absolutely dire and we were rightly and soundly beaten by Huddersfield who were superior all over the pitch. They thoroughly deserved their win and 2-1 hardly flatters them.
Birmingham City: Darren Randolph 5, Paul Caddis 5, Aaron Martin 4, Will Packwood 5, Paul Robinson 4, Chris Burke 5, Tom Adeyemi 5 (Nikola Zigic 59, 5), Reece Brown 4 (Olly Lee HT, 5), Emyr Hughes 6, Lee Novak 4 (Peter Lovenkrands 75, 5), Federico Macheda 5.
Subs not used: Colin Doyle, Tyler Blackett, Brian Howard, Albert Rusnak.
Goals : Lee 90+5.
Bookings: Macheda.
Huddersfield Town: Alex Smithies 6, Joel Lynch 6 (Peter Clarke HT, 6), Anthony Gerrard 7, Tommy Smith 6, Paul Dixon 6, Adam Hammill 6, Oliver Norwood 7 (Keith Southern 87, N/A) Adam Clayton 8, Jonathan Hogg 6, Danny Ward 6, Nahki Wells 6 (Sean Scannell 89, N/A).
Subs not used: Ian Bennett, Callum Woods, Martin Paterson, Joe Lolley.
Goals: Norwood 10, Clayton 60.
Bookings: Smithies, Dixon, Norwood, Clayton.
Attendance 14,112 (895 away fans).
Referee: Darren Deadman 8: this was one of the best refereeing performances I've witnessed all season. He ran the game efficiently, played the advantage rule very well and instilled discipline when it was required. He stood no nonsense from players trying to win cheap free kicks and brooked no tolerance of delaying tactics early on from Smithies trying to slow the tempo of the game. The visiting keeper was quite rightly cautioned. He got most decisions spot on and if there was more officiating of this quality there would be less rubbish talked by football pundits on a Saturday evening. Well done Mr Deadman.
Bazza KRO SOTV